So, the job search is going... okay. I think I have some promise with a laundry store that's looking for some help while one of their main workers is on maternity leave. I'm thinking about other ways to raise some funds. I was thinking about making jewelry again, selling it on etsy this instead of LiveJournal. I'm pretty good see below for a few examples of my work.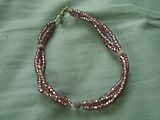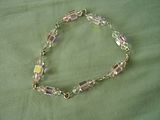 Not bad eh? At least worth 2- 5 USD plus shipping. That's what I found just off of this hard drive. I do have a bit of saving so I think it would be good to buy some more beads and things and see what happens. Michael's is ridiculously expensive so I think I will have to order from Fire Mountain Gems.
I've also started working on the design for my website. I need to get that joker back up, rebuy my domain and all of that. At first I was thinking of a whiter liter website but I think I'm going back to a my classic pale pink and navy blue. I'm trying to go for a more vintage feel. I've got a few ideas in my head but not much on photoshop/ website manager yet.
That's all for now.